St Frances Xavier Cabrini - titular patroness of the Australia-Asia Scalabrinian Province
---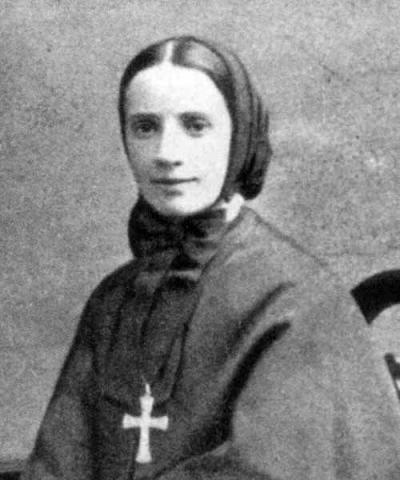 Foundress of the Missionary Sisters of the Sacred Heart and pioneer worker for the welfare of dispersed Italian nationals, this diminutive nun was responsible for the establishment of nearly seventy orphanages, school, and hospitals, scattered over eight countries in Europe, North, South and Central America.
Francesca Cabrini was born on July 15, 1850, in the village of Sant' Angelo, on the outskirts of Lodi, about twenty miles from Milan, in the pleasant, fertile Lombardy plain. She was the thirteenth child of a farmer's family.
In September, 1887, came the nun's first trip to Rome, with the dual purpose of seeking papal approval for the order, which so far had functioned merely on the diocesan level, and of opening a house in Rome which might serve as headquarters for future enterprises.
Pope Leo XIII received her and blessed the work.
A new and greater challenge awaited the intrepid nun, a chance to fulfill the old dream of being a missionary to a distant land. As a result of hard times at home, millions of Italians had emigrated to the United States and to South America in the hope of bettering themselves.  Talks with Bishop Scalabrini and with Pope Leo XIII persuaded Mother Cabrini that this the cause of the migrants was henceforth to be also hers.
She and the seven of her nuns landed in New York on March 31, 1889 and before long an orphanage had opened its doors there. The Cabrini nuns became familiar figures down on Mulberry Street, in the heart of the city's Little Italy.
The year that celebrated the four hundredth anniversary of Columbus' voyage of discovery, 1892, marked also the founding of Mother Cabrini's first hospital, named after Christopher Columbus.
Launching across the country, Mother Cabrini now extended her activities to the Pacific Coast. Newark, Scranton, Chicago, Denver, Seattle, Los Angeles, all became familiar territory and in Colorado she visited the mining camps.
In Seattle, in 1909, Mother Cabrini took the oath of allegiance to the United States and became a citizen of the country. Mother Cabrini died on December 22 in Chicago, Illinois. She was sixty-seven. Her Feast Day is November 13.