OUR CONGREGATION
---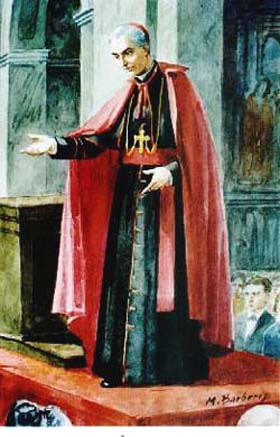 The Congregation of the Missionaries of St. Charles - Scalabrinians - is an international community of men who have as their identity and mission to be missionary religious, who follow in the footsteps of Bishop Scalabrini on behalf of the migrants.
The Congregation of the Missionaries of St. Charles or Scalabrinians was founded by Blessed John Baptist Scalabrini, Bishop of Piacenza, on November 28, 1887, to assist the migrants who were crossing the Atlantic to reach the Americas. The beginnings of our Congregation were humble and unpretentious: just two Italian priests who made their vows in the hands of our Founder. The first mission fields were the United States and Brazil. Subsequently, keeping pace with the evolution of the migration flows, we reached other countries and continents. Today, our Congregation is present in thirty-one countries, with about 700 missionaries and about 400 seminarians, coming from twenty nations.
 
We are religious, consecrated to the Lord by the vows of obedience, chastity and poverty. Most of us are priests, but we have also a number of religious lay brothers. We live in community and are called to proclaim the Good News to the migrants, to defend their rights, to promote a more humane society where the migrant is not seen as a foreigner or an illegal, but where the migrant can feel he is a citizen with full rights, because we are all sons and daughters of the same Father and members of the same human family.
By the word "migrants" we intend not only permanent migrants, but also temporary migrant workers, seafarers and refugees.
We exercise our ministry in formation houses or seminaries, parishes, missions, chaplaincies, reception centers, shelters for the migrants, and at seaports. We are present in national and diocesan Church organisms; in centers of migration studies; in the teaching and in-depth study of the pastoral care of migrants through the Scalabrini International Migration Institute (SIMI). We engage in lobbying and advocacy through the Scalabrini International Migration Network (SIMN) and through an international network of public and private institutions dealing with the world of migration.
To facilitate and coordinate the care of the Scalabrinian missionaries and of the migrants, "the Scalabrinian Congregation is made up of religious communities grouped into Provinces or similar territorial divisions and united by the bond of the same apostolic mission" (Rules of Life 185).
The present administrative groupings of Scalabrinian missionaries are eight:
1. General Administration (includes in Rome: the Blessed Scalabrini Generalate, St. Charles International College, Migration Study Center (CSER),  Scalabrini International Migration Institute ( SIMI), Scalabrini International Migration Network (SIMN); and in Arco [Trento] Casa Maria Assunta, rest home for sick and elderly Scalabrinian missionaries)
2. Province of St. Charles Borromeo (in East USA, East Canada, Haiti, Venezuela, Colombia)
3. Province of St. John the Baptist (in Middle and West USA, Middle and West Canada, Mexico, Guatemala)
4. Province of St. Paulo (in Central and North Brazil and Peru)
5. Province of St. Peter (in South Brazil and Paraguay)
6. Province of St. Joseph (in Argentina, Chile, Uruguay, Bolivia)
7. Province of St. Frances Xavier Cabrini (in Australia, Philippines, Indonesia, Taiwan, Japan, Vietnam)
8. Blessed John Baptist Scalabrini Region (in Italy, France, Germany, Switzerland, Belgium, Great Britain, Portugal, Spain, Mozambique, South Africa)
For further information on each of these territorial divisions, go to the Congregation's official website http://www.scalabrini.org