The Blessed John Baptist Scalabrini
---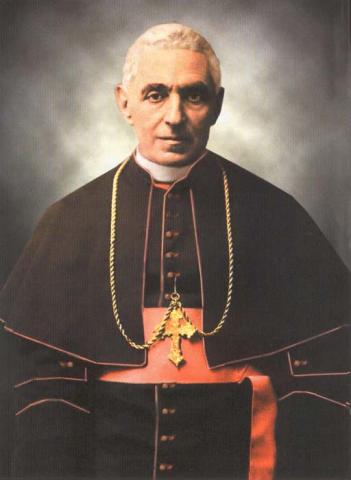 Who is Blessed John Baptist Scalabrini?
He is an unknown figure to almost everyone. Yet John Baptist Scalabrini, a seemingly obscure Roman Catholic Bishop of a rural northern Italian diocese, Piacenza, from 1876 to his death in 1905, is perhaps more than anyone else the single-most important architect of a global outreach on the part of the Catholic Church in the ever-increasing fields of migration and refugee flows. His innovative thinking, analysis of the migrants' and refugees' plights and efforts on their behalf continue to inform and even inspire the Church's efforts in this field down to this day.
Giovanni Battista Scalabrini was born in Fino Mornasco (in the province of Como in northern Italy) on July 8, 1839.  The third of eight children, he attended the local State High School, where, from his first year, his remarkable intelligence and consistent efforts made him a top student. He was ordained a priest in 1863 at the age of 24, after which he expressed the desire to become a missionary. Instead, he was assigned by his Bishop to teach at the minor seminary and also to act as Vice Rector and later Rector.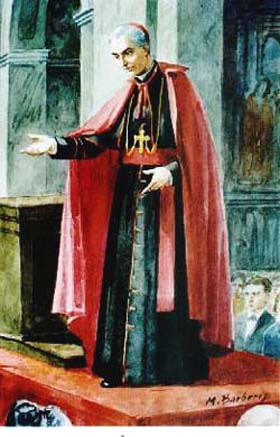 His pioneering firsts, winning ideas:
- Five pastoral visitations accomplished in person of a vast diocese with many places difficult to reach
- Three Synods
- The first Catechetical Congress in the world and the first Journal on Catechetics in Italy (and second in the world)
- The proposal for the first unified Catechism for Italians, including emigrants
- The Institution of the first Chair of Catechetics
- The first Missionary Religious Congregation for Italian emigrants
- The first proposal for a specific pastoral plan for them
- The first to found a Lay Order for the assistance of migrants.
Scalabrini's practicality, readiness for action and gifts as a fine religious administrator served him brilliantly as an untiring pastor. He needed such gifts as noted by one of the official examiners of his heroic virtues - the first step in the road to official canonisation of an individual in the Church - noted, he had "such an imposing quantity of work that it leaves any ordinary person not only edified, but thoroughly daunted".
Another feature of of his pastoral work was his surprising ability to infuse all his people with an insight into their vocation as disciples of Christ so that their faith led them from the cradle to the grave.
For him, everything was sanctified and helped to sanctify, assisting the ever-deepening personal friendship with God that the Second Vatican Council was to declare more than 50 years after his death to be the universal call to holiness, the basis for every human life.
Interestingly, unlike other contemporary saints, Scalabrini's life was not surrounded by miraculous events. What was miraculous, in a sense, was his immense confidence in Providence. Scalabrini is not a saint and a bishop but a saint because he was a bishop who lived his vocation to the best of his ability.
Today, Bishop Scalabrini stands out as ideal pastor for the modern era. His motto as pastor was St Paul's "make yourself everything to everyone", and what is clearly special about his life is the intensity and breadth of his commitment in whatever field he entered.
Those who knew him regarded him as sociable and accessible, direct and open, sensitive and vulnerable. Yet he was also lucid, vigourous and had a deep trust in ascetic practice. He may have been sensitive but was also resolute as a leader and decisive in control of spontaneous impulses, refusing to succumb to emotional pressure or transitory whims of the moment.
Finally, Scalabrini was also a pioneering bishop, an explorer able to step outside the accepted boundaries and thinking of his day to go further, to confront obstacle and use them as opportunities to advance. "Without doubt", he once said, "we are in the hands of God, but we must not sit there idly."
Bishop John Baptist Scalabrini died on June 1, 1905. 
He was proclaimed Blessed by Pope John Paul II in Rome on November 9, 1997.
---
 Between heaven and earth: the angels' coat-of-arms of Bishop Scalabrini
 Taking his inspiration from Jacob (Gn 28: 12), Blessed John Baptist Scalabrini chose, as the motto of his episcopal coat-of-arms, the verse, "Video Dominum innixum scalae" (I see the Lord at the top of the stairway).
This was a metaphor of a man of God who wanted to be on the frontier of dialogue between Heaven and Earth, between God and his People, between the Church and the World, between Faith and Country. Hope as the journey, faith as the stairway, and love as vision.
  
---
St. Charles Borromeo, the Patron Saint of the Scalabrinians
"The time has come, my dear friends, to definitively place our Congregation under the patronage of a saint, and (...) and to my mind there came - more radiant and gentle than ever - the figure of the great St. Charles.
From now on, you will have the honor of calling yourselves The Missionaries of Saint Charles.
St. Charles was an example of undaunted constancy, of generous patience, of enlightened, unrelenting and magnanimous zeal. He was an example of all those virtues that make people real apostles of Jesus Christ. He thirsted for souls!"
(Bishop Scalabrini in a letter to the Missionaries for the Italians in the Americas, on March 15, 1892, Piacenza).
 
---
Humility as lifestyle and servitude
From St. Charles Borromeo, the Scalabrinian Missionaries have inherited even his motto, namely, "humility," a virtue that should characterise their lifestyle and their service to the migrants.
"One saves souls on one's knees," St. Charles Borromeo used to say. That is to say, we save souls with prayer, humble prayer to "Christ, meek and humble of heart," to Christ who humbled himself to be one with all humanity.