Our Province...
---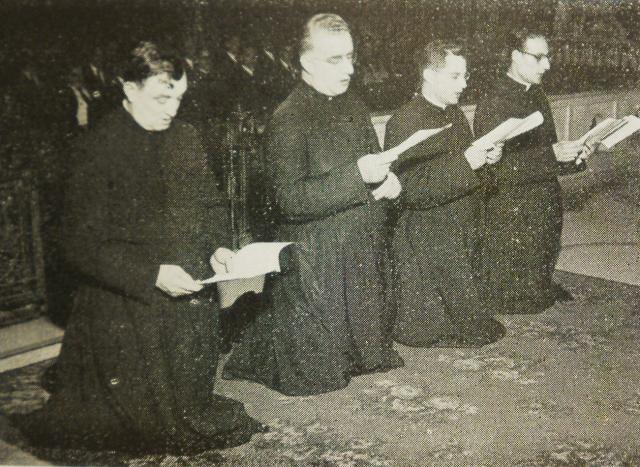 The 1952 Pioneer Scalabrinian group: Fathers Nino Setti, Dante Orsi, Ignazio Militello and Tarcisio Prevedello.
The first four Scalabrinian Missionaries arrived in Australia the 2nd of November 1952. But the Province of Saint Frances Xavier Cabrini was officially established in Australia and given St. Frances Xavier Cabrini as its special patron and title on 7 October 1957, after the Scalabrinian missionaries had been supporting the local clergy in the pastoral care of the Italian immigrants for five years, under the administration of the North American Provinces.
With the arrival of more Scalabrinian missionaries, the Congregation established its presence in several parts of Australia and soon became a point of reference for the local migrant communities as well as for the local Church.
 
The changes in migration flows during the years were reflected in the transformation of the St. Frances Xavier Cabrini Province that expanded its mission beyond the originally assisted Italian migrants in order to provide care and support to migrants of other nationalities, like Spanish and Portuguese speaking migrants (especially South Americans), Filipinos and lately Chinese migrants.
In 1982 the St. Frances Xavier Cabrini Province opened its first mission outside Australia in Manila, Philippines. Other openings outside Australia soon followed: Taiwan in 1994, Indonesia in 2002, Japan in 2003, and Viet Nam in 2005.
 
The Scalabrinians in the Cabrini Province provide a variety of services to the migrants. In addition to the preparation of future Scalabrinian missionaries in formation houses or seminaries, they provide spiritual ministry and community building, education in schools, local organisations for cultural activities, care for the elderly and sick, counseling, legal referral, and advocacy. They also encourage the study of migration through research centers and the dialogue with political and civil groups through conferences and  specialised magazines.