SCALABRINIANS IN INDONESIA
---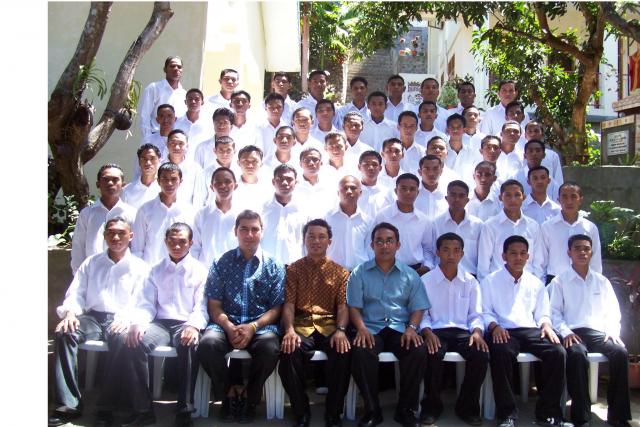 The Scalabrinian presence in Indonesia began with the invitation to our Congregation and Province by a Mexican Servite Sister, Sr. Alicia Sandoval, to accept as candidates for the Scalabrinian Congregation. In 2001 our province accepted her invitation and, with the approval of our General Administration and of the Ruteng Bishop, it began vocation promotion and seminary formation in that country.
The Ruteng Scalabrinian seminary, adapted from an existing storage house, could adequately house up to 40-50 candidates. After the first two groups completed their preparatory or propaedeutic year in Ruteng, at first they continued with their philosophy studies in Manila, Philippines. But it became soon necessary to provide for their studies in Indonesia. After one year in a rented house in Jakarta, Java, a permanent home for the philosophy seminary was opened in Maumere, Flores, where they attend the philosophy faculty in nearby Ledalero, conducted by the Society of the Divine Word (SVD). Once they obtain their bachelor degree in philosophy, they transfer to the Philippines for their postulancy and novitiate.
For more information on the history and presence of the Scalabrinians in Indonesia see our pages on Migration Services in the 'What We Do'  section.