Scalabrinian Vocational Year 2012
---
STAY WITH US LORD (Lk. 24, 29)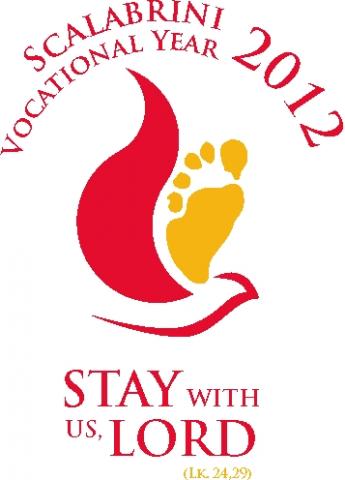 "Prayer for the Scalabrinian Vocational Jubilee Year"
Father, from whom all vocations come. You sent your Son Jesus Christ to walk with us. Enlighten us on our journey so that we may choose to walk with the migrants and share with them the light of the Word and the bread of the Eucharist. Give us courage and perseverance to respond to your will, thus following the steps of your Son Jesus and of the Blessed John Baptist Scalabrini.
Migrant Jesus, we pray: call young people to respond to the challenges of human mobility and displacement. Strengthened by your Spirit, may they continue your plan to welcome all in your love.
Holy Spirit, in this Jubilee and Vocational Year, renew in us the missionary fervor so that we may reveal Christ's presence in the world and all may come to say :  "Stay with us, Lord".
Amen. 
---
"Preghiera Anno Vocazionale Scalabriniano"
Padre, autore di ogni vocazione, tu che hai inviato tuo Figlio per camminare con noi, illumina i nostri passi affinché possiamo essere sempre vicini ai migranti e condividere con loro il pane della Parola e dell'Eucaristia. Continua, Signore nostro Dio, a donarci coraggio e perseveranza per dire Sì al tuo progetto, seguendo i passi del tuo Figlio sulle orme del Beato Giovanni Battista Scalabrini.
Gesù migrante, chiama ancora giovani sensibili alle sfide della mobilità umana; sostenuti dal tuo Spirito, possano dare continuità al tuo progetto d'amore.
Spirito Santo, in quest'Anno Giubilare - Vocazionale, concedi a tutti noi un rinnovato ardore missionario, affinché ogni essere umano, scoprendo la presenza di Gesù nel mondo, possa dire "Resta con noi Signore"!
Amen.
---
"Prière pour l'Année des Vocations scalabriniennes"
Père, auteur de toute vocation, toi qui as envoyé ton Fils pour marcher à nos côtés, éclaire nos  pas pour que nous puissions être toujours le prochain des migrants et partager avec eux le pain de la Parole et de l'Eucharistie. Continue, Seigneur notre Dieu, de nous donner courage et persévérance pour dire OUI à ton projet, en suivant les pas de ton Fils sur les traces du Bienheureux Giovanni Battista Scalabrini.
Jésus migrant, appelle encore des jeunes sensibles aux défis de la mobilité humaine, pour que, soutenus par ton Esprit, ils puissent continuer ton projet d'amour.
Esprit Saint, en cette Année jubilaire – des vocations, accorde à nous tous une ardeur missionnaire renouvelée pour que chaque être humain, en découvrant la présence de Jésus dans le monde, puisse te dire encore : "Reste avec nous, Seigneur !".
Amen. 
---
Oración para el "Año vocacional Scalabriniano"
Padre, autor de toda vocación, tú que enviaste a tu Hijo a caminar con nosotros, ilumina nuestros pasos para que podamos estar siempre cerca de los migrantes y compartir con ellos el pan de la Palabra y de la Eucaristía. Continua, Señor, Dios nuestro, dándonos valentía y perseverancia para decir que sí a tu proyecto, siguiendo los pasos de tu Hijo sobre las huellas del beato Juan Bautista Scalabrini.
 
Jesús migrante, sigue llamando jóvenes sensibles a los desafíos de la movilidad humana; con la ayuda de tu Santo Espíritu, puedan dar continuidad a tu proyecto de amor.
Espíritu Santo, en este Año Jubilar - vocacional, concedenos un renovado ardor misionero, para que todo ser humano, descubriendo la presencia de Jesús en el mundo, pueda decir: "Quédate con nosotros Señor"!
Amén.
---
Oração Ano Vocacional Scalabriniano - "Fica conosco, Senhor!"
Pai de bondade, autor de toda a vocação, que enviaste o teu Filho para caminhar conosco, abre os nossos olhos e aquece os nossos corações para que nos aproximemos dos irmãos migrantes e com eles partilhemos o pão da Palavra e da Eucaristia. Concede-nos, Senhor nosso Deus, coragem e perseverança para seguir os passos do teu Filho nas pegadas do Bem-Aventurado João Batista Scalabrini.
Jesus Migrante, continua a chamar jovens sensíveis aos dramas da migração a fim de que, sustentados pelo teu Espírito, possam dizer "sim" ao teu projeto de amor na construção do teu Reino.
Espírito Santo, neste ano vocacional, concede-nos um renovado ardor missionário, para que cada pessoa, descobrindo a presença de Jesus no mundo, possa dizer: "Fica conosco, Senhor!"
Amen.